Features are computed from a digitized image of a fine needle aspirate (FNA) of a breast mass. They describe characteristics of the cell nuclei present in the image. For example: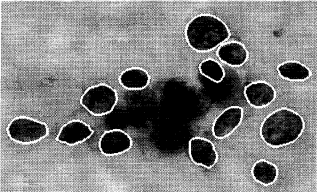 Attributes:
Sample code number: id number
Clump Thickness: 1 - 10
Uniformity of Cell Size: 1 - 10
Uniformity of Cell Shape: 1 - 10
Marginal Adhesion: 1 - 10
Single Epithelial Cell Size: 1 - 10
Bare Nuclei: 1 - 10
Bland Chromatin: 1 - 10
Normal Nucleoli: 1 - 10
Mitoses: 1 - 10
Class: (2 for benign, 4 for malignant)
The goal in this example is to use the input features to train a machine learning model to predict whether each image presented is benign or malignant. We will then validate the predictive power of the model using out of sample data.
To do this, we begin by importing the SliceMatrix-IO Python client.
If you haven't installed the client yet, the easiest way is with pip: